High School Choir Clinician
2021-22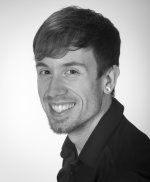 Joshua Donaldson
Joshua Donaldson is the Director of Choral Activities at Emporia State University, where he conducts three choirs and teaches courses in choral conducting, choral methods, piano, and music history. Prior to ESU, Joshua served as the long term choir director at Blue Valley Northwest and the Director of Music at Council Grove High School/Middle School.
Dr. Donaldson is a founding member of the Kansas City summer festival chorus, United in Voice. He maintains an active singing career as a member of two Kansas City-based choirs, Te Deum and KC VITAs. Most recently, he was a featured soloist in L.V. Wood's oratorio "On the Back of the Black." He has a passion for social justice, and has led sessions on how to safely and effectively incorporate social justice issues into the choral music classroom, how to communicate to your choir with the conducting gesture, as well as how to effectively engage your choir with intentional warm-ups. He also serves as the worship leader at Red Bridge United Methodist Church, where he directs the choir and leads the praise band.
Dr. Donaldson holds the BME, MM in Choral Conducting, and MM in Vocal Performance degrees from Pittsburg State University, and a DMA in Choral Conducting from the University of Kansas. He is the recipient of the 2017 Most Distinguished Thesis Award from Pittsburg State University and the 2018 Sandra K. Daugherty Award for Outstanding Graduate Conductor from the University of Kansas.