Middle Level Choir Clinician
2019-20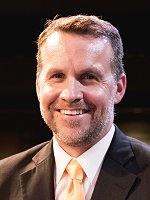 Matthew Webber
Matthew Webber teaches vocal music in the Wichita area. He has taught both middle and high school vocal music in Wellington and Wichita public schools. Matthew is currently teaching vocal music at Wichita Collegiate School. He received his Bachelor's degree in Vocal Music Education in 2003 from Wichita State University and then his Master's degree in Music Education from Wichita State University in 2008.
Matthew has facilitated several Youth Harmony Explosions (YHE): facilitated the YHE in Wellington, Kansas in 2005; was the guest clinician at the Kansas City, Missouri YHE in 2006; was the guest clinician in Bentonville, Arkansas and Hastings, Nebraska YHEs in 2012; facilitated a Barbershop workshop at Southwestern College in Winfield, Kansas in 2012; was the guest clinician in Sterling, Kansas and Hastings, Nebraska in 2014 and 2015. He is currently the Director of the South Central Kansas SmorgasChorus, which has competed in the International Barbershop Chorus competition twice (2017 Las Vegas, NV - 16th place; 2018 Orlando, FL – 19th place).
Matthew has performed with his Commencement Quartet at all of the Wichita State University graduations since 2003 and has also performed in several competitive barbershop quartets in recent years. In 2013, he was honored to be the director of the USD 259 Middle School Honor Choir and was the guest director for both the Kansas Pioneer League Middle School Honor Choir in November 2017 and the Middle School Honor Choir in Maize, Kansas. Matthew was also selected as Outstanding High School Music Educator for the South Central District of KMEA for the 2013-2014 school year.